I've had my sewing confidence rattled lately by the utter failure of my Robe a la Turque, so I'm sorely in need of some hand-holding through a project.
Enter the Larkin & Smith English Gown pattern. This pattern comes with paper pieces for the bodice, and a spiral-bound color booklet of history, materials guidance, and step-by-step instruction. It's *fabulous*.
I've just started, only cutting out the bodice lining pieces and pleating down the back, but so far it's been very easy and enjoyable, and I truly feel that an excellent gown will result.
I'm doing the gown up in yellow silk taffeta shot with bronze. I would have preferred a stronger Chinese yellow, like some of the gowns below, but it didn't seem to be in season. Still, the fabric is gorgeous, and I've wanted an obnoxious yellow gown for so long!
To get more familiar with this type of dress, here are a few of my favorites from my Pinterest board: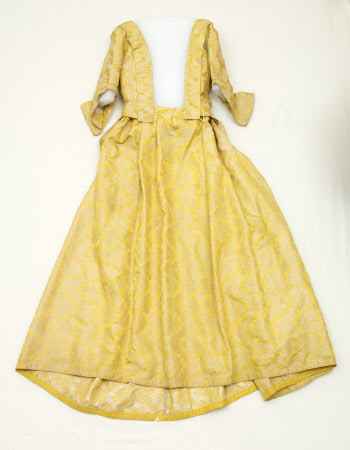 National Trust, 1750-60 – this one has winged cuffs, which the L&S pattern does have as an option.
The Met, 1770-75 – isn't that just gorgeous! Crisp pleats and fly fringe.